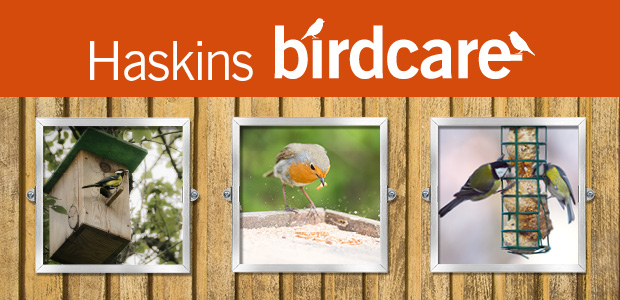 Look after wild birds in the garden with top tips from Haskins Garden Centre.
As the colder months approach, Haskins Garden Centre has released some tips on looking after wild birds in the garden.
To attract Robins into the garden, Haskins recommends placing bird food in ground feeders, dining station trays or on tables. A Robin's diet consists of insects, seeds and nuts and they particularly relish Mealworms. Feeding Mealworms is a great way to attract more Robins into the garden. Whole Co-Co Mealworm and Insect Feeder is available to buy in centre.
Chaffinches tend to be found in farmland, woodland and suburban areas. To help attract these birds into the garden, Haskins recommends using seed mixes in feeders. The Complete Feeding Station Kit for wild birds is available at Haskins. Alternatively, there are mini bird feeders available.
Alasdair Urquhart, plant advisor at Haskins Garden Centre, Ferndown, said: "Garden birds struggle to find food during the colder months as freezing temperatures, snow and ice make it increasingly difficult for them to find enough food.
"Just a little food and shelter can turn your garden into a vital sanctuary for birds. Garden birds are prone to infection during the winter, so keeping their energy levels topped up is important."
Haskins' range of bird houses, tables, feeders and wild bird food is available to purchase now. Centres are located in in Ferndown in Dorset, West End in Southampton and Roundstone and Snowhill in West Sussex.